Plastic Material For Sale
*updated 11/3/15
1) VLDPE Clear Film
Clear VLDPE bales, rollstock and virgin pellets
Truckload every 4 weeks
FOB our dock
2) LDPE Mulch Bags and Clear LLDPE Stretch Film Baled
Details: The bales are mainly compacted with Low Density Polyethylene bags used for mulch (wood wrap).
Quantity: 3-5 truckloads approximately 37-40000 lbs. per load.
Location: Wisconsin
Pricing: Make offer
3) Clear With Print LDPE Film With Slight Fiberglass Contamination and Small Yellow Stickers
Quantity: 44,000 lbs. every 2-3 months
Location: Kansas Pricing: $.22/lb.
FOB Kansas or best offer.
Payment terms: Wire transfer before pickup of goods.
4) LDPE Logs


Description:  95% of logs will be LDPE(white/natural) other 5% of logs will be Nylon(yellow).
Quantity: 3 Loads Monthly
Location: Nashville, TN
Price: Make offer
5) LDPE Clear Film

Description: Clear film used to cover car door panels.
Quantity: Load every 2-3 weeks
Location: Lorenzo, CA
Price: Make offer
6) PP Corners
Description: They are storage outside. There are no contamination in the product.
Quantity: Total of 35 pallets each pallets approx. 750 lbs
Location: Pompano Beach, Florida
Price: Make offer
7) HDPE 4-20MI mixed color regrinds
*pics available upon request

Quantity: 3-5 truckloads monthly. Loads average 40-41000 lbs net weight.
Location: ToronFOB various Eastern U.S. locations. These are toll ground for Vikoz.to, Canada, Calgary, BC, Canada and Houston, Texas.
Pricing: Make offer
8) Natural HIPS

Description: Extrusion sheet in rolls or regrind. Will contain 1.5% EVOH all post industrial material.
Quantity: 300,000 lbs with ongoing truckloads monthly.
Location: Wisc.
Pricing: Please quote your best price delivered in the U.S. or Central/Eastern Canada. Vikoz will deliver.
9) HDPE Large Diameter Pipe

Description: HDPE-HMW 3608 pipe. Excellent HMW properties. Overall pipe is clean and loads will have various length's telescoped inside each other as seen in the pictures.
Quantity: 40000 lbs weekly. We ship in 53ft dry van's only and always obtain no less than 39000 lbs. Cannot load flat or step deck trailers. Also cannot load ocean containers.
FOB: Southwest
Price: High demand material. Make your best offer FOB pickup point.
10) Rigid PVC r/g

Description: Polyone M3800 Rigid Injection grade  PVC REGRIND.  VERY CLEAN WITH NO CONTAMINATION. Colors are BLACK, RED MIX (RED-ORANGE-MAROON) AND MULTI COLOR MIX.
Quantity: 40,000 lbs monthly
Location: Cleveland, Ohio
Packaging: Gaylord boxes
Price: Make offer
11) Mixed Curbside Film Bales
Location:Nova Scotia, Canada (will deliver to the Port of Halifax).
Monthly quantity: 100-200 tons
Price: Make offer
12) Mixed rigid plastic bales
Location:Nova Scotia, Canada (will deliver to the Port of Halifax).
Description: The plastic is approximately 50% HDPE blow mold, 25% "Tubs and Lids" and 25% other plastic (no soda bottles but there is PETE clam shells).
* This material is from Municipal curbside programs where the public is told not to recycle Foam or PVC.
Price: Make offer
13) HDPE & PP totes & bins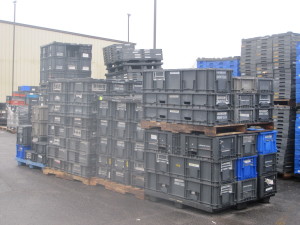 Description: Most items are clean and free of contamination inside but outside may have shipping labels attached
Location: Tennessee (Vikoz can deliver to most locations East of the Mississippi)
Price: Make offer
14) Baled LDPE film

Description: Camelback yellow/greenish yellow LDPE film bales each weighing approximately 1000 lbs. 90% Yellow with 10% yellow/greenish color film.
Quantity: 45,000 lbs monthly
Location: Northeast Ohio
Price: $.25/lb. FOB Ohio
15) EPS Ingots

Quantity: Truckload quantities FOB. Loads are averaging around 38,000 lbs or more
4 loads – Philadelphia, PA
1 load – Dundalk, MD,
1 load –  Lincoln, RI
Pricing: Make Offer
16) EPS Ingots

Description: EPS ingots  98% white, 2% color ( separated )
Quantity: 40,000 lbs monthly
Location: Texas
Price: $.35/lb. FOB Texas or best offer.
17) Geomembrane rolls

Description: Mostly 30 and 60 Mil. Will have some dirt inside and outside of rolls. LLDPE based resin.
Quantity: 400,000 lbs now and ongoing monthly. Loads on flatbeds are averaging 31-35,000 lbs per load.
Location: British Columbia, Canada
Asking price: $.05/lb. FOB FT St John, BC, Canada and Buick, BC, Canada.
18) Clear PET Rollstock

Base: (19 mil x 42" Clear non-barrier PET with RM40 Permanent Seal film. One sided silicone PET side only)
Lids: (15 mil x 42" Clear EVOH barrier PET with Peal-able seal film, Anti-fog Laminate side only)
Description: Product is clear. Yes the finished product has a hold punch and our signature membrane adhered over the hole.
Quantity: 354K lbs of unconverted sheets
Expected weight per truck: There is one roll per pallet. Total of 200 pallets. As for finished trays total of 563 pallets of finished products.
FOB shipping Point: Fort Calhoun, NE
Asking price: Make Offer
19) LDPE clean & white trim bales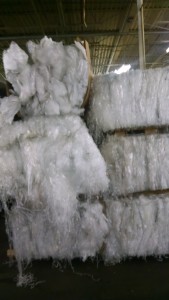 Description: Baled LDPE 60% Trim. They can be natural, white, or mixed per customer specifications. The LDPE baled trim is hand sorted.
Quantity: We generate about 2MM lbs per year of these bales
Asking price: Make offer
20) Purge

Description: Purge loads are sloppy and come in about 20,000 lbs every 3 weeks. Purge that comes from extrusion laminators and purge that comes from extrusion coaters.    The laminated purge sometimes has small amounts of fill (calcium carbonate) or other additives from the respective customers' own reclaim efforts.   The coating purge can be PP as well as PE, but never together in one purge log/blob.   The individual coating purge logs are mostly the PE kind (>90%).
Quantity: We generate only about 700K per year of purge (various shapes and sizes).
Asking price: Make offer
21) Rollstock

*Pictures avaliable upon request
Description: Rollstock split somewhat evenly between straight PP, PP-PP Lam, PP-PE Lam, PP-PET Lam, and some metallized. Occasionally some LDPE but smaller quantities which are mixed in with LDPE trim bales or logs. Also a lot of rollstock is sold as slabbed and boxed loads.
Quantity: 8MM lbs per year
Asking price: Make offer
22) TPO Floor Sweep

Description: Loads will consist of both floor sweeps and strapping per pictures attached.
Quantity: 40k lbs per load. This is ongoing once per month.
Location: Mid- Atlantic coastal state
Asking price: Make offer
23) LDPE & MDPE

Description: clear and color with print post industrial roll stock – MDPE and LDPE printed full rolls of packaging film. All rolls, print on clear and print on white. No metalized, no laminates, no coatings, no skinner or telescoped rolls. All post industrial except the stretch film
Quantity: Ongoing. 40,000 lbs per load.
Location: FOB Missouri
Asking price: Make offer